Tim Burton's "Alice in Wonderland"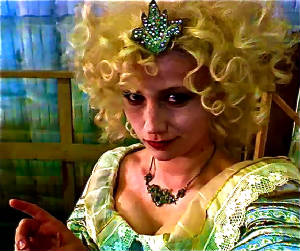 Jacqueline Nyahay in the White Queens Court
~Jacqueline Nyahay Memoirs 2009~

2009 started off fabulously! Ed received his winner's payment from TLC along with an apology for the delay and we immediately packed our bags for Disneyland. And of course we could not resist shooting multiple Zyla's World episodes, which Ed posted to her youtube account. Jeff Olan Casting called, and I went on an interview for "Medium" to play Ryan's Girlfriend/Mistress. I booked the gig, almost by default, because there were only three of us at the interview and one girl was 20 years old and had just been featured as a dead body. The other girl was a regular stand-in who looked just like the principal she stood in for, so the job was given to me. On location, down in Long Beach, I was given cute business attire and put through hair and make-up. The scene was very tame and actor Bryan Callen was totally cool to work with, very down to earth. I asked him if his character gets back with his wife. He said he did not know the story line, but I hoped my character could be reoccurring or turn into something bigger like say principal. To catch my moment on Medium check out episode "All in the Family" #088-40.

XM called to book me on "Couples Retreat" the new Vince Vaughn movie. I played a Sports Bar Patron at Champs Bar. We were pretending it was winter in Chicago, but in reality it was 80 degrees in Burbank and we were all sweating in the winter coats and gear. In the same week XM called again with "Samantha Who". I played an Applicant trying to get my proposal accepted. It was a walk away lunch at 4pm, which was ridiculous because the Commissary on the studio lot at CBS Radford was closed and we had to leave the studio to find food. I ended up going to Trader Joes and getting a tuna fish sandwich. I hate walk away lunch.

I was happy XM was calling twice in one week. I had written them a letter explaining that I would have to cancel their service if they did not start booking me more. For the past few months they had only been getting me 2 jobs a month.

Jeff Olan posted another interview on the hotline, this time for "Grey's Anatomy" which I called in and submitted for. I was called to go on the interview for featured Bar Girl. Five of us showed up for the interview and we were told that they needed three girls, one to play the lesbian girlfriend of the principal and the other two being friends out with the couple. I booked the gig but nobody knew who was playing the lesbian girlfriend. The day of the gig was downpour raining and all our beautiful hair-do's went flat. We were sent through wardrobe and then we were hanging out with one of the stand-in's on the show. He was telling us the back-story of "Grey's" and all the gay/lesbian things going on. The scene took place in Joe's Bar, the regular bar on the show. Jessica Capshaw was the lesbian doctor on the show. I figured they probably wouldn't have me play her girlfriend since I stood-in for her back in New York on "The Groomsmen" and we looked similar. I was right, a cute, young brunette was picked and I was used as one of the friends out with the couple. I forgot "Grey's" does walk away lunch, but at least the Commissary was open and I got a burger. When we came back from lunch the scene was shot quickly and I was out in under 8 hours.

Ed got me new roller blades and we started going to Moonlight Roller Rink every weekend with Zyla and her friends. XM called at the beginning of February to get me on "Curb Your Enthusiasm" as a Restaurant Patron. It was a Sande Alessi gig, so I was happy they used me again. We were on location at the Santa Monica Pier on the most perfect day. The sun was out, beautiful weather, the ocean looked amazing. It all brought a calming to my spirit. The scene took place in a restaurant where Larry brings in his handicap date in a wheelchair and Ted Danson sends over a desert. They do not use scripts but improv the entire thing. It was very funny, lots of cursing though, but who cares it's for HBO!

Jeff Olan put on the hotline "Bachelor" Women Tell All stand-in's needed. I love working that gig, so I called to submit. Jeff called back to say I booked the gig. It was shooting the following week and I cannot say I was surprised that XM wasn't calling. With my downtime I decided to do my taxes. The day before the Bachelor gig, XM called early in the morning with a rush interview for a possible 5-day gig! I called back to say I was available for the interview and was told that it wasn't for sure, that they were submitting photos and just wanted to check to see who could go if the production company asked for us to be rushed in for an interview. The day ended with no phone call back from XM and no interview. Sometimes I wonder if XM just did that to make it look like they are actively looking for work for me, since in reality they still were only booking me twice a month. The following morning I headed out to do "Bachelor" at Victory Studios here in Burbank. It was downpour raining as I entered the tiny studio and immediately I felt budget cut. Crafty was set up with Valentine Eve doughnuts from Krispy Kreme. We were brought out on set and half the audience chairs were gone. The walk through turned into a race through as we loosely acted out the rehearsal. We use to walk through everything slowly in real time, but now the clips weren't even played out for us, just the last 10 seconds. Unlike the last 2 times I had worked this Women Tell All episode, we were not fed lunch, no overtime and sent home in 3 ½ hours. I was happy for the work, but everyone was feeling this economy crunch.

XM finally called with a gig, back on "Curb Your Enthusiasm" as stand-in for Cheryl Hines. I drove back down to Santa Monica Pier, but unlike 2 weeks ago when we had amazing weather, it was a downpour rainstorm. We were shooting at Banana Republic on the 3rd Street Promenade and Cheryl was not scheduled to come in until 1pm. My call time was 8am, so I sat around in the store for a number of hours reading and talking with the other stand-ins. After lunch I finally got to work. The rain had let up for a little while when the scene went out onto the promenade, but was making a come back so they finished quickly and I was out in under 8 hours.

XM called at the end of the week with a fitting for me on "Alice In Wonderland". Bill Dance was casting and I was picked to be in the White Queens Court. I had never worked for Bill Dance, so I was happy XM had hooked that up. I had to call Bill and talk to him about the details, he seemed like a very no-nonsense kind of guy. The fitting went amazingly well over at the Culver City Studios. I was fitted into a tight corset Italian ball gown of crème with baby blue accents. Then a shock of white hair wig was fitted on my head and I was photographed by all the departments. I was looking forward to working with Tim Burton on this his latest vision!

My friend emailed me to say she totally saw me on "Grey's". I tried to see if the episode ('An Honest Mistake' episode 516) was posted online so I could see too. I found an amazing read Mutant Message Down Under by Marlo Morgan. Her memoir fictional story of living with one of the last tribes of Aborigines for three months in the Outback was a wonderfully touching testament of God at work. After working "Curb" twice in one month, I thought I should check out the show, so I rented the entire 1st season. Larry David was funny on set and there were moments when I felt like I was listening to "Sienfeld", it was totally obvious he wrote that show. I can see how "Curb" is so successful because it is a combination of scripted and reality mixed into one show, with the added bonus of having a huge audience following already from "Sienfeld". I really enjoyed watching the 1st season and the 1-hour special that started it all and am definitely a Larry David fan.

March rode in on a lot of rainfall and I was pleasantly surprised when XM called with a stand-in gig for "Miami Trauma". Shooting just down the street from my house at Warner Brothers, I arrived to the set of "Without A Trace", which I had not been to since I first got back to L.A. in 2005. Still at Stage 8, all the sets still exactly the same. Of course "Without A Trace" was not filming the day I showed up. Production was just using those sets to shoot screen tests of the finalists for the leading roles on the new pilot "Miami Trauma". It was an easy day, since once the lights were set, it was more or less, changing up the actors for their shot at the roles. I found it interesting that the actors scheduled first were so much more prepared and professional. As the day wore on, some of the actors showing up did not even know their lines. You would think by that point, having already gone to auditions and call backs and now finally the big screen test they would know their lines. It seemed pretty obvious who was going to be cast. I was excited to see Lana Parrilla from "Swingtown". She was the only one being screen tested for her role that day and she was awesome. She was also the only actor who said hi to me and introduced herself. I decided to be brave at the walk-away lunch and see if I could walk back to my car and get home, eat and get back through security in one hour. I did it without a moment to spare! After reparking and checking back through security, I made the 10 min hike back to Stage 8. As I was walking past Stage 22, one of the WB tours was going by and I heard the tour guide saying that this was where the new show "Miami Trauma" would be filming, which was going to taking the place of "ER". I could not believe the tour was already talking about it! I mean usually nothing is even for sure with a pilot and today we were just doing screen tests to get the right actors. But it was a Jerry Bruckheimer show, so I guess that means it is a done deal! Some of the actors scheduled for the screen test did not show up. The last girl of the night was called to try to make it in earlier, but she was at another audition, so we had an hour of downtime before she showed up. I finished my book The Center of Everything by Laura Moriarty. Awesome author! I ended up with 2 hours overtime and was told the show would start in a few weeks, hopefully with a call to get me more regular stand-in gigs! Finger's Crossed! That night at 6 minutes to 10pm, my cell phone rings from XM and I can't believe they would be calling this late, but technically my paperwork says they can call up until 10pm with a booking for me the following day. I checked the message, but I wasn't booked, they just wanted my availability for the next day for Dixie Webster. Seemed strange since XM knows my availability and it was before 10pm. I was not sure what show she cast for, but I had already rescheduled twice for maintenance to come to my apartment so it was easier to call back the following day saying sorry I wasn't available.

Jeff Olan Casting called with a gig on "Private Practice" the day before my "Alice" shoot. I knew how crazy movies could be and with the costume and make-up and hair being done on set, who knows how early my call time might be, so I turned down working the last two days of "PP" season, to rest up for "Alice". Fortunately I was one of the lucky ones to be called in with the latest call time at 8am. The first wave of actors showed up at 6am. By the time I showed up to the stage the early birds had already been brought to set.
Tim Burton's "Alice In Wonderland"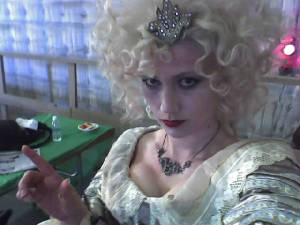 Jacqueline Nyahay in the White Queens Court
After I was fitted in my wig and my make-up applied, I went to get dressed. The costumer could not believe I had fit into the dress just three weeks before. It felt tighter than it had and they were suppose to have taken out two inches. I could barely breathe in the corset as they tightened the laces. I went to relax in my chair and finished reading Blood Colony by Tananarive Due. I love her and was so excited when she completed this 3rd novel in her series about the immortals and the Living Blood. I hope I do not have to wait another 7 years for her next one as she left it open for another sequel. I was called to set right before lunch and thrown into a quick scene where we follow the Queen and Alice. The entire sound stage was green. We were shooting all things Green Screen and no principals were there, only stand-ins. I guess it was the final days of the movie, not the beginning as I had originally thought. For lunch we were told we could not come out of our costumes and to put on these white, plastic chief aprons. I carefully ate the delicious foods and then went for touch ups. When we returned to set, I was always thrown in the back of the scene since I was the later call time. It was interesting to see Tim Burton direct just background. It seemed he had found a favorite of us and put her in the front of most scenes. She had of course been there since 6am. As the day wore on the corset got worse. I am no stranger to corsets, but this was insane. The straps at the top of the gown were digging into my shoulders and my ribs were clawing into my lungs, which were screaming with every shallow breath I tried to take. I really was getting to the point where I just couldn't take it anymore. Thank God they wrapped us by 6pm and we were told we would not be coming back tomorrow. As much as I needed the money of this supposed two-day call, the circulation being cut off as my body was being squeezed, getting shaky and seeing spots before my eyes, all was enough for me to say thank you for not forcing me into this outfit again. I honestly doubt I could have put the dress on again, two days in a row. Once the laces had been loosed, it took over an hour before my ribs and lungs stopped burning with every breath and started to feel normal.

And just like that I had no more work again for 2 weeks. Totally sucked. I was calling the hotlines like a lunatic every 15-30 minutes. I made it a goal to at least try to submit for something every day if I could. Need a dead body, I'm there. Need someone to hang out with a bunch of smokers, I'm there. In real life, I cannot even stand the smell of cigarettes, but times were desperate. In fact, SAG work had all but become extinct as the contract negotiations came to a halt with no plans for resolving or striking or anything. When the token SAG job went on the lines everyone bit, no matter that it might be for an Internet commercial paying SAG members Non-Union rates, but as the casting directors liked to point out, at least it was a SAG job going toward our Pension and Health. The way this year was panning out, I'd have better chances trying to get the AFTRA Health insurance instead of the SAG. First time that had ever happened in my 14 years as a member of the Guild. XM finally called with an AFTRA job for a new pilot "The Law". I showed up to play a customer at the Batiste Nursery, but of the 7 actors brought in to be customers, only 2 were used, so it was an 8 hour day sitting in holding. Not that I'm complaining, I was getting a paycheck and got to read Anne Rice's memoir Called Out of Darkness. What a beautiful story of coming back to God. Many themes rang true for me, as I was atheist for 7 years after my father died in 1991. I found it interesting that Anne came back to her Catholic childhood faith in 1998, exactly when I was reconnecting with God through the Catholic Church as well. The simple message of how important love is in healing most everything was timeless.

To my shock XM called me for the fourth time in one month! Wow, things must be picking up, at least for AFTRA shows it was. They booked me on "Parks and Recreation" as a Facebook Girl. A handful of us showed up to CBS Radford Studio to do a photo shoot for Paul Schneider's character. We were creating photos for his Facebook page to show him out partying with a bunch of gorgeous, awesome people! It was a lot of fun and since it was second unit we could blast music, dance and have a good time while recreating these memories. Paul was very down to earth and not your typical principal actor. He actually sat with all the background in our holding area, hanging out, chatting, etc. We had the best time doing the house party shots, where we played quarters and other drinking games. Usually photo shoots last 2-3 hours tops, but for some reason we were called in at 10:30am, even though Paul did not report to set until 3pm. The make-up artist told us she had been allotted 40 minutes per girl for make-up, meantime, we were all told to come hair and make-up ready, so there was a lot of miscommunication and downtime. Once the shoot got going, it went fairly fast, but so many pictures were taken on the digital camera that it took 2 hours to upload them all and get final approval from the director. At walk-away lunch we were told we could go to the crafty truck for sandwiches if we wanted. I went, but the craft service guy was giving off a negative vibe about it. We ended up with a half hour of overtime and I headed home on the eve of April Fool's Day.

April blew by on a fragrant spring breeze. Zyla was barely in school, having two weeks off for Easter. Playdates and parties filled our time. We wandered through flower gardens, forests and museums. Rollerskating to our favorite tunes, watching the new Hannah Montana movie, life was carefree and fabulous. Easter Sunday, we were enjoying ourselves at the Renaissance Pleasure Faire when Ed got a call about a death in the family and booked a flight to New York. XM had booked me on "Bones" playing an Admin Clerk down at the Fox Studios in Century City. I arrived on set by 6 am when Ed called saying Zyla was throwing up. His sister was going to watch Zyla, while Ed headed to the airport. It was a stressful time for me sitting in holding, knowing Zyla was not feeling well. We only had three scenes in the Bullpen, but it lasted all day. The food was wonderful, full breakfast set up and later a mini lunch set up at crafty so we were all well fed when it came time for walk-away lunch. I spent the hour talking on my cell to Zyla who was starting to feel a bit better. Over an hour of overtime before I was wrapped out and on my way to my baby.

Little did I know it would be 2 months before I would work again. Spring bloomed around me and I tried not to dwell on how slow it was. May and June are usually slow, but the reality that it was approaching a year with no SAG contract weighed heavy on everyone. Thankfully a contract was drawn up that we the members of SAG could vote on. In the meantime, I got antsy and paid to join LACasting.com again.

Jacqueline Nyahay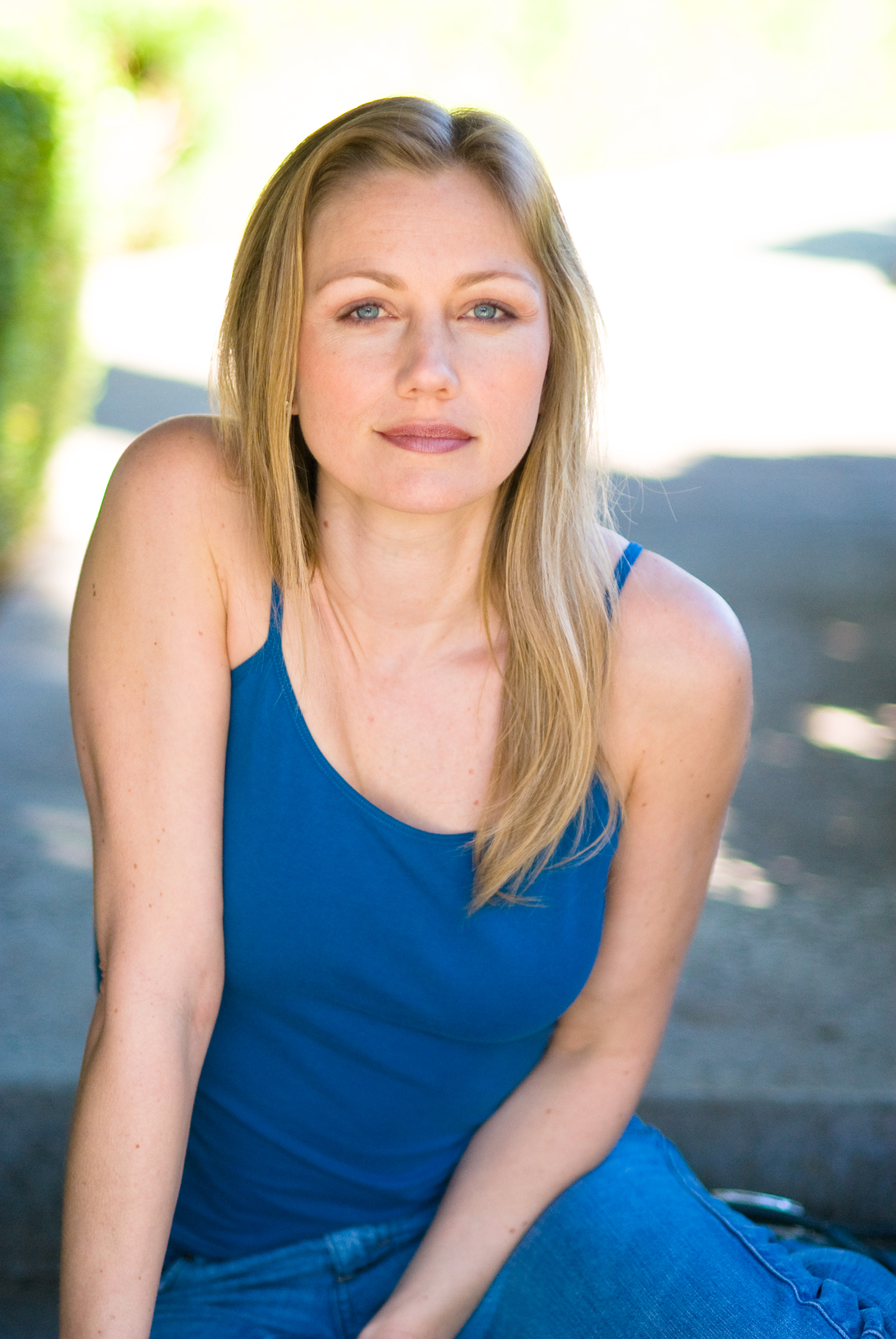 photographer Noah Smith www.tripleglance.com
Why do I chase after a lost cause? I honestly think these sites are developed to take actors money and let the actor feel they are doing something to push their career along. Whether this lies in truth or fantasy does not seem to matter. I knew from the past that I could submit every day for months at a time and not get one booking from them. But the seed of doubt that one actress I met on "Parks and Rec" gave me about submissions getting to the front of the list if you have demo reel clips attached, intrigued me. And I wasn't working so XM wasn't charging me full price, why not spend the money on LACasting and try my luck again. I uploaded 5 clips from my demo reel of features, hoping to now have that edge. I went to Central and Jeff Olan to update my picture since it had been two years since they had seen me in the office. I started going insane with all the down time, submitting to student films and shorts, even though I never work for free. I finally got some responses on LACasting. One from an agency wanting my video clips, but when I emailed them back their mailbox was full every day for two weeks. Did they send out a spam to every actor on the site, I never got through to them. Another response, from a management company requesting my video clips, was emailed and never heard from again. An audition for a short, which I never submitted to and could find no record of on LACasting was cause for worry. When I emailed LACasting to find out what was going on, I never got a response. Can anyone go on the site and start emailing actresses to come for auditions? Lastly, an audition for a student film, which was shooting in August, I passed on since the SAG contract went through and work was promised to pick up by July. I needed paying gigs bottom line. Did anything positive come out of joining LACasting again? I guess I would have to say seeing the castings from Central that weren't posted on the hotlines were helpful. I noticed "Entourage" had started up again and since I had gotten Jason, the casting director's business card when I met him on "Worst Week" back at Christmas '08, I left him a message about working it and seeing if he could give me a referral for another call in service, Joey's List, that I wanted to get into. He called back quickly saying he would give the referral and get me on "Entourage" the next day. Unfortunately, I was booked out to go to Zyla's Oratorical Faire the next day, so it did not work out. And the call in service I was trying to switch to was not taking anymore submissions, referral or not, so all in all, nothing came about from re-joining LACasting, but a waist of time and money.

I felt a lot better when XM called in June to book me for two days on "iCarly". Heading over to Nic on Sunset, I played a Teen Pageant Mom. Yes we all were wondering why Nickelodeon was featuring a Teen Pageant show with Mom's too young to have Teen daughters, or else we had our daughters in our teens. Someone said maybe it was to show Teen pregnancy could all work out in the end, who knows. The last time I played a Pageant Mom was to an 8 year old, on "My Name is Earl" back in 2005. Kristen, the girl playing my teen daughter, was adorable. She was featured on the show doing her talent of dancing Hip Hop. She had just played the girlfriend of Justin Beiber in his new music video 'One Time' and was quickly building up credits. I spent a lot of time in holding talking to her real mom about the industry. She is a natural and I expect to see her a lot more in the future. When I got home I was able to download the music video for free to Zyla's iPod. She thought it was cool. Hanging with the 30something crowd of Pageant Mom's, of course we all started talking about how often XM books us. I felt better knowing it has been slow for everyone and decided not to hold it against XM that I haven't been getting gigs lately. Crafty was doughnuts and bagels and lunch was walk-away in Hollywood, but I still enjoyed working "iCarly", who must not be big on overtime, as we wrapped out early both days.

After hearing the news that my animated feature film "Dwegons" was being pushed to late fall '09, with promo to start in the summer, I didn't really think about it until June rolled around. I contacted Tom and found out he was in town from China. The feature would be finished by late fall, but promo was not going to begin until then, and the release date had been pushed again to early 2010. Good news was I could come into the office and check out some sneak peek clips! Tom invited my husband and I to come watch and had added an extra line to one of my characters, so I did a little bit of voice over work while we were there. The trailer looked amazing and we were only watching it at half the color resolution. It was so exciting to see the cartoon come to life with my voices behind the characters. I was really looking forward to the premier of our movie.

As Ed, Zyla and I geared up to fly off to Iowa on a visit to my family again, the East L.A. Census Bureau called. Was I still interested in a Census job? I had taken the test for the job earlier in the year when SAG was trying to help actors find other work since we had no contract on the horizon. I thought they told us we would go door to door in our own neighborhood, not East L.A. Was I prepared to knock/harass people who did not fill out their census form properly? I was not up for it and just prayed that more gigs were on the horizon. We had an amazing time relaxing in the slow paced Madison County country life, so different from the madness of LA. We brought the video camera along but kept forgetting it in the car and did not end up shooting anything until the last day we spent at the Living History Farm, which of course Ed was editing for youtube. We heard about Michael Jackson's death and miraculously found a snapshot of him with his brothers, circa from the 80's, in a drawer of old pictures at my grandmother's house. With tears in my eyes we had to say good-bye, it was time to head back to LA. SAG had finally had the yes vote we needed to establish contracts again and after a year of waiting, I was ready to get back to steady work. As the plane was landing at the Burbank airport I got a call from XM that Bill Dance wanted to talk to me about a lead stand-in role. I called him and he wanted to make sure my hair matched my photo and submitted me for a photo shoot, but I never heard anything more about it. The hotlines were starting to get busy again and I submitted for Iron Man 2, a regular sitcom stand-in gig, Medium, everything and anything that sounded like it fit me. I even had Ed shoot a picture of me in ripped jeans and a flannel, sort of a downscale look that could be used for multiple projects I had heard on the lines and emailed that over to XM to use for submissions.

LACasting finally got me a SAG commercial audition for Wii. They were asking for 30 something mom types who were fit but looking to get more in shape. The commercial would be a big work out with the game and with a personal trainer. At the audition I was asked to do 10 push ups, which I just barely made it through, along with some jumping jacks and lunges. The casting director noticed my Red Shoe Diaries credits on my resume and talked about how he had worked at Zalman King back in the day, meaning the 90's. It was crazy to think another whole decade had gone by since that time. They really liked me and asked the other director in to meet me. I left feeling really good about the audition, but by the next day my entire body was in pain. I couldn't imagine how I was going to last for the 2 day shoot doing a lot more extreme exercises. I guess I didn't need to worry, by the next week LACasting had the audition posted again as a recast, and now they were looking for younger girls who were athletes. Totally sucks, I hate getting my hopes up! MZA Agency contacted me through LACasting, asking for my headshots and an interview. I had heard from them last year in early '08 and because of the jury duty and some gig never got in to meet them and lost the opportunity. Now I had it again over a year later and this time I was going to meet them no matter what. It also helped that the interview was scheduled for a Saturday, since I rarely get gigs on the weekend. I arrived at the Michael Zanuck Agency about a half hour early and decided to scope out the joint. Not much going on in Agoura Hills on a Saturday morning at the little office building where MZA resides. I watched as one actor approached the building and found her way around the back to the office. She exited a little over 10 minutes later. I continued to watch this pattern with more actors showing up for their interviews. It was close to my appointment time and I made my way confidently into the office. I had brought 5 copies of each of my three headshots since the assistant/intern Jill had left a message on my cell phone saying to bring in headshots. When I had emailed her back confirming the appointment and asking how many headshots, she had never replied. I noticed the other actor in the room filling out a form and went to grab one to fill out for myself from a stack of clipboards. I then sat down on a red cushioned seat. The agent, whom I guess was Michael, came out with whomever he had been interviewing and then sized up who was in the room. He asked if we had read the sign and I said no. He then told me to read it and took the other fellow into his office. I went back over to where I had grabbed the clipboard and read the sign, which stated a list of rules. First was to fill out the form. Did that. Next it said that once in the meeting I would be handed information from the agent and that this was a preliminary meeting for the agent to talk and not a time for the actor to ask questions. The actors should feel free to chat amongst themselves in the waiting area, but no hooking up or engagements. Then it said that handshakes were not acceptable, a nice smile with a wave was enough. I figured the guy must be a germaphobe. Then it said to make sure you were sitting in the green seat that is by the agents' office and is the power seat to Go! Go! Go! Ok, things were getting sort of weird now. I quickly changed seats to the green one that the prior actor, who had already read the sign, had just vacated. When the agent came out he must have known I read the sign since I changed seats and brought me into his office. The office was set up professionally, with the typical posters of movies with actors' autographs thanking the agent, etc. Michael found my three headshots I had mailed in and gave me back the two he did not want. Obviously the intern was mistaken when she told me to bring more because he did not seem interested in more. He then handed me the paper and told me not to read it until I got home. He said they were only looking to rep commercially at this point and said he liked my headshot. He knew Joanne Barron, where I took acting classes and asked if I had taken her commercial workshop, which I said no. He then looked over my acting credits, telling me not to list character names and to change Day Player to Principal, things like that and made a comment about Mystique saying he knew who they were, Playboy and that not a lot of people knew that. I am not really sure how many people would know unless they were in the business back in the 90's when Mystique was in business, but I assumed most agents would be aware of them. He then asked if I did nudity to which I said yes. He asked if I was comfortable with it and I said yes, but someone like Disney might not be. I was not sure if he was going to suggest I take it off the resume since he was telling me what to change on the resume to make it more professional and not look like I was lying about my credits. He said no one has an issue with nudity anymore unless you are talking about porn. I said Mystique was SAG after all, what is the problem. He then started going on about how he had just cast for some movie on cable and knew everyone at Cinemax and that to get on any HBO or Showtime contract you had to sign for one day of nudity. In my head I was thinking, wow, we are not on the same page at all. Just because I did something in my past and am comfortable with my past does not mean I am looking to get back into that scene, I left it over 10 years ago! Sharon, my agent on the East Coast, from day one was always steering me away from anything in that direction, but Michael had other ideas. He then asked for my paper back and wrote something on it and gave it back to me. He said he would consider me for theatrical rep and he thought he could make a lot of money off me. He then stuck out his hand to shake and I wondered whether this was some test, should I give a cute wave like the sign outside had said. I ended up just shaking his hand and leaving. As I was walking out the door I heard him joking with the two girls in the waiting room asking if they were engaged yet. Bizzare. So I get to my car and read the note and it lists exact details of how they want me to contact them, always by email, no phone calls ever. It told me to email to a new email address, not the one I had used for this initial meeting and write one sentence no more, no less. Either yes I would accept commercial rep if offered, or no I would not. And the handwritten little note he had added in the meeting was the word 'theatrical' added in. So how was I suppose to decided off of a meeting like that. A meeting where I am told I can ask no questions or talk about what my acting agenda is. Obviously with the way things were left I did not want him representing me theatrically. I emailed him with the one sentence saying I would take commercial rep if offered. The note then said I would have to wait 2 weeks to hear back if at all and that another meeting would be scheduled where they might offer a contract or might not or might want another meeting. I called my friend to tell her about the experience and she reminded me that all she has ever heard about MZA is they are a scam and just want to get actors to pay to use their photographers and go to their acting workshops. Michael had never directly said anything about me needing new headshot or going to his approved workshops, but who knows what the second meeting would hold.

XM finally called with an interview for a dead date girl on "The Mentalist". They wanted to make sure I was comfortable with playing dead and being bloodied up. Yes of course! They called back later that afternoon to say the interview was cancelled and instead I was going to work the show the following day as an office worker. Finally work! So I drove out to the LA Times building mid-July early in the morning for my call time. Outfit approved, I hung out in holding and asked around about the MZA agency. One guy said he was signing with them, but it was pending getting new headshots from the approved MZA list. Others talked about all the comments online, which said they are a scam. Took a straight 8 and headed home to do my own research, since I had really only check out the MZA website, which listed a select roster of supposed clients they had gotten work for on big shows. What I found out was they did indeed sound like a scam and if they ever did contact me in the next two weeks, I could expect at the next meeting to be told about needing new headshots and more workshops.

The email came telling me I was to come back for a follow up meeting on Saturday again this time in the afternoon. Confirm immediately. I did not feel like confirming immediately. Their crazy email games were getting old. I decided I would let them wait, but then again, who was really waiting, it was probably all just some head game I was playing with myself. XM called at 9:45pm, to tell me I was booked the following day on "Castle" for stand-in. Call time noon, but it could get pushed. Central called me at midnight to say it got pushed to 12:30pm. When I woke up in the morning I decided to confirm with MZA even though I had completely lost enthusiasm for meeting them, I knew it would be fun to have the follow up story to jot down in here. I arrived at the Raleigh Studio off Melrose and parked in the insane structure on Van Ness where they stuff all our cars even though the parking limit is met. Ran across the street and through security and proceeded to wander around the entire lot looking for Stage 11. Seems it was just on my left as I entered but there was a truck parked in front of the number so I did not see it. Thank God I was totally early and it is a small studio, I checked in, got my color coverage and met the other lead stand-ins of the show. They were very welcoming and the entire crew was really awesome. I had never heard of the show before, but they were really great, over and above. I was standing in for Lauren Holloway. I did not know her, but found out she is a lead on "The L Word" so that was cool! Then something happened for the first time in my life on set, I ran into someone I knew from high school! I grew up in the South Bay, Southern Cally, L.A. baby, but when it came time for high school, my mom could not find the perfect school for me and I ended up going to 5 or 6 different high schools. So I always thought the chances of me running into someone from school on set would be huge. But that was never the case, and I always felt like the odd ball actually being from here, when usually everyone is from somewhere else. Ended up we were in the same graduating class and shared some classes at L.A.B. in the Valley. My mom thought it would be great if my sister and I went to this school, which was over 30 miles from my house in Manhattan Beach! So back and forth we went everyday for my freshman year, only to make my mom sick. I did end up back at the school in 11th grade, renting a room, so it would not be as hard on my mom, with her only bringing me home and back once on the weekends. I would say I spent the most time, of all the high schools I went to, at this one. We broke for walk away lunch, but I was so full from crafty after the Texas Lasagna and Mango Strawberry Salad that I hung out with my sister on the phone instead. After standing in for Laurel, I thought I would be done for the day, but then the Second A.D. came to tell me I would be standing in for a girl in this added scene they were shooting next. So after that scene was over, I thought I would be done and at this point it was 11:30pm. But then they announced Dodger Dogs and the crew got busy then moved on to the next set up and I was never wrapped. At midnight I called my husband to wish him Happy 10th Anniversary! I still cannot believe 10 years have already gone by! He said he would wait up for me. At 1:30 in the morning, I started getting sleepy from just hanging out, and in a moment of pause found the Second A.D. and asked if I was standing-in for anyone else. Nope, you are done, go to wardrobe. Hooray, time to go home, I turned in the color cover shirt, got my voucher and signed out. Picked up my keys from security and made it home before 2am.

On Saturday I was dragging my feet about whether I was going to go to the meeting at MZA or not. I took Zyla to gymnastics all morning thinking about it and decided it would be a nice drive, and interesting to see what he would say. I talked myself into going and left an hour early, only to run into insane traffic on the 101, so it took the entire hour to get there. It was 101 degrees in Agoura Hills as I quickly exited my car and entered the office. There was a new sign hanging on the wall. This time the rules were similar to last week, no shaking hands, just cute smile, sit on the green power agent seat, and shut the door behind you and keep it open when you leave the meeting. The hooking up with other actors was not on the list, but Michael threw it out there when he came into the waiting room. First, he chastised the male actor I was sitting next to for speaking to me, before bringing him into his meeting. I could overhear the meeting; it was going exactly as I had read about online. I could hear the whole sales pitch for the photographers. Michael is good. He seems entirely sincere. And of course as an actor looking for an agent and to get signed and working, it probably is an easy sell most of the time. I heard the guy asking Michael how much it was all going to cost him and being told to take his time, not to make it a financial burden and when the pictures were ready to call, but not before or to update or anything else, because they are busy, busy! I started chuckling to myself, it was all so cliché, it was ridiculous. Another male actor entered the waiting room and we started talking about the weather. Michael walked out and said something about us talking and not to get engaged and that it happens. I entered my meeting and was immediately told he wanted me theatrically. I said after last week I did not think we were on the same page and I had a different agenda for my career. He asked what my agenda was. I told him I was not looking to go back to Cinemax; nudity was something I did in my early 20's. He said he completely agreed with me, that he was not suggesting I do it, but that he would have a hard time selling me mainstream, since my mainstream credits were slim, small roles and did not want to make any promises. So we agreed on just commercial, but he said he loved my look so much he still wanted to think of me for theatrical in the future, so with that being said we moved on to the issue of headshots. Out came a list of photographers and he recommended I see them all. He then made a list of all the shots I would need to get of different looks, lawyer, doctor, mom, sexy girl, redneck dirty, redneck sexy, military, hooker hard-core, and hooker high class. They were not all going to be used commercially, but he said he still wanted to think of me theatrically and I would need all of them for that. Then he asked again about if I had taken a commercial workshop and handed me a paper with a list of workshops, saying I should go to the one day intensive and to call and not let her talk me into a package deal, because all I needed was the 1 day intensive. But he said it was optional and that most important was getting the photographs. He said I should call him directly even though I was only going with them commercially because he wanted to keep me in mind theatrically for the future. I guess he only deals with the theatrical/commercial people and someone else deals with commercial only. I was having a hard time keeping a straight face; I mean seriously, the meeting was over in less than 10 minutes. I got another handshake and made my exit.

Driving home, I thought about the series of agents I had been with over the years. Twice I fell prey to this scam early in my career from a management company and an agent, who was later found stealing his actors' money. For the most part, I have been lucky to hook up with agents who ask me into their office because they already like the photo I sent and want to start sending me out immediately and do. And in today's economy who has the kind of money you would need to do it MZA's way? When you are talking about doing 10 looks, you have to book multiple sessions with a photographer. Then they want you to print up 10 of each look and bring them in. Hopefully pick one of each look and you print those up and are done, otherwise you have to go shoot again. This was looking like it might run a couple thousand dollars, if you are lucky. And then you will probably never be sent out and never hear from them again.

The character picture idea totally reminded me of what we do for background work. MZA's website shows how they only market their actors with these character headshots, meaning you are dressed in character for the shot. Normally, you have a great shot that personifies so much that the casting director can imagine you for many things. The shots MZA wants not only will cost way more than just doing a standard commercial and theatrical look, but will only be useable for those specific roles. And their website promised that their photographers got this concept and were experienced at shooting character shots. It sounded like a big waist of time and money to me. What I did decide I needed to do is maybe shoot some more character shots for XM.

LA Casting alerted me to another SAG commercial audition for BMW. I had submitted to it, but was having second thoughts. They wanted a stunt performer and I did some of my own stunts in 'Black Sea 213', but then again that was 12 years ago. They said they were looking for gymnasts or acrobatics and I took gymnastics all my life, but then again when was the last time I was really in a gym. At the audition we were going to be doing stunts into crash pads, in nice upscale clothes. Of course they said to not wear anything that might get ruined. I confirmed that I would go, but was praying someone would call me with a job for the following day, so I had a good reason not to. XM called, but it was for a 4-day job the following week, which I was not even available for, totally sucks! Then Jeff Olan Casting called to book me on "Private Practice" as a parent. After listening to the info tape on where and when for set, I started trying to figure out if I could still squeeze in the audition. I was back to Raleigh Studios, Hollywood at 8am, for a very short three-hour day on set. I was dressed upscale casual autumn, which would work for my 12:15pm audition if the valet guy could get my car unburied from the pack in job they do at the Van Ness parking structure. Driving down Melrose, I ask myself, do I really feel like throwing myself into crash pads and doing it over and over again if I got the job. I will blame blowing off this audition to that time of the month.

I called XM the first week of August to book out for the next two weeks since Ed's job was starting up again, but Zyla would not be back in school until the end of the month. Then miracle of miracles happened. XM called saying Central was booking me for an interview for a regular stand-in gig on the sit-com 'Better off Ted' for the character Linda played by Andrea Anders. They wanted to make sure I would be available since I had just booked out the next two weeks. Yes, I am totally available I told them I wanted the interview! If I got a regular stand-in gig I would work out babysitters for Zyla for the next two weeks, work for free if I had to. I remembered when I submitted for this job off the hotlines a month ago. I had emailed Central my stand-in resume which I made on the SAG website iActor platform. Since I had never heard anything, I figured it had been booked. This was very last minute having the interview on a Friday to start Monday. The job would be 4-5 days a week, going through until Thanksgiving, unless the show was picked up for more seasons. I called all my friends and family to keep me in their prayers.

I woke up early Friday morning and got ready. I decided not to go too dressed up, just casual, as I would show up at work. Black jeans, black tank top, flip-flops on I headed out the door to L.A. Center Studios in downtown. Part of our test was getting to this studio without directions. Fortunately I had worked at this studio last year and remembered my way. No traffic for once put me there 45 minutes before my interview. I roamed the halls until it was closer to my call time. The interview consisted of four girls and we all stood in a line in this private lobby while the director looked us over. We were all about the same height, same color hair, etc. so it was going to be a tough decision. The director asked each of us a couple questions and then that was it. He said it was up to the DP to pick, so we waited to for him to come meet us. While we waited, the AD was asking where everyone was from. Everyone was from the East Coast except for him and I. I was surprised, native Cally's are rare. After meeting the DP and answering a couple more questions we were dismissed. The AD wanted to collect our headshot/stand-in resumes, but I had not thought to bring one. After all, I had emailed in the resume a month ago and those were supposedly sent to production to pick who came to the interview. Central never said anything about bringing it so I was not worried and the AD said he would jot down a couple of my jobs to give to the director, so I listed off a bunch of the NY stuff and it ended up he had just worked with Amber Heard, whom I stood in for in NY. Such a small world! As I entered the elevator, I asked when we would know and he said later that afternoon. I got home feeling very positive. Ed, Zyla and I had a planned play date at the roller rink, so that is where I was when my cell phone started vibrating. XM called to say I booked the interview and would start work Monday!

The first two weeks flew by in a blur. I was working every day, mostly straight eights, but a few overtime days. ABC wanted to keep the budget at 11-hour days most of the time, but from the first day we were behind a scene and each day tried to catch up to schedule. The crew was not entirely the original from season one so of course everyone was getting into the groove together to get this show out like a well-oiled machine. Although our show was on a studio lot, we had catering 4 out of 5 days a week, and the food was awesome! The first scene I was thrown into was a walk and talk down a hall and when the AD called for a second team rehearsal, I had not bothered to learn my character's lines and litterly was saying blah, blah, blah as we walked down the hall. Later in the week, another random second team rehearsal was called when the camera was going to dolly around a table of 8 year olds while my character spoke to them. Again I was saying blah, blah, blah and then I got up, but it set the timing wrong for camera and frustrated them and they asked for first team. In my mind I didn't see why I should memorize my character's lines when we obviously deliver them differently and if timing is the issue on dialog I felt they should just bring in the actor. My job description had never been to memorize my character's lines and I was sure I wouldn't be fired for not doing it. Meanwhile the other stand ins were occasionally trying to learn their character lines, but second team rehearsals were rare anyway so unless you just wanted the practice it might be seen as a waist of time. And there are the principal actors' feelings to consider. I had been fired off set from standing-in before, for an actress who felt intimidated by me. I didn't want that to happen to this sweet gig, so I played it low key the first week. Some of the stand-in's thought I looked like Cheryl Teigs daughter. I had never heard of her, so with Christiane's iPhone we googled her image and I did recall the supermodel from the 70's. Three of the stand-ins, Christiane , Zack and Tracy were from first season, Brian had done BG first season and the rest of us new to the show. We all got along really well and I don't think a day went by when I wasn't laughing and enjoying myself completely.
"Better Off Ted" Season 2 Second Team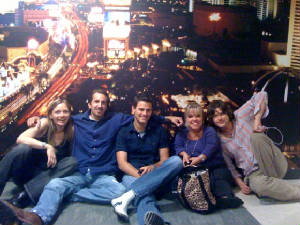 Jacqueline, Zack, Brian & Traci

Arriving on set the first day of the second week, I decided to give it a try and memorize my character's lines for the first scene of the day, just in case they called second team rehearsal. Wouldn't you know it, they did. They wanted it for the background to see when lines would be delivered so they would get an idea of when they needed to do things. Thank God I memorized my lines because I had to run them with the lead of the show Jay Harrington who plays Ted. He wanted to run the second team rehearsal, which is usually just between the stand-ins. So it was more of a first team/second team rehearsal. I pulled it off and he gave me a high five at the end of the scene. Later I was talking to the sound mixer and he was impressed with my performance. He said that they like it when you can deliver the lines in second team rehearsals. But he also told me a story from season one of a stand-in who wasn't invited back this season who had upset one of the actresses for running her lines in a second team rehearsal poorly. He told me not to worry because the girl I was standing-in for was totally cool and she didn't mind at all. I already knew how cool my girl was. She always thanked me every day for standing in for her. She always made a point of saying hi to me in the mornings and she seemed like a generally cool girl. I had heard that last season her stand-in tried to become her best friend and boundaries were crossed and that stand-in did not come back. I made sure to stick to the rules of protocol and be professional.

Each week we had a new director and it was interesting to see the dynamics between them and the DP. Unfortunately it did not feel as if they shared the same vision this week. Things got tense on set as our DP who usually does feature films kept trying to set shots that were not really what ABC family television wanted. The more complicate the shots became the more we went into overtime and ABC was getting upset. The director this week was known for shooting fast, but not with the conflicts with the DP so we all wondered if he would be back the following week. I did get to run a Second Team rehearsal of a walk & talk for camera and the BG. My girl starts off the scene, so I did her dialog and landed on the mark in her cubicle. When we cut, Andrea was standing right there watching the whole thing. I hoped she was cool with it, since you never know. She said, "Wow, great job!" and I breathed a sigh of relief. The First AD told her she wasn't suppose to be there during Second Team rehearsals. It's a fine line between the Second Team and First Team and some actors are touchy and it's easy to upset the balance. I am just glad Andrea is so dang cool with everything. As regular stand-ins, the Second AD tries to make sure we work whether our character is or not. So I ended up standing in for a guest star who was a short Asian woman with dark hair. When that character came back the next day, I could not stand-in for her because my girl was working, so they brought in the Asian girl's regular stand-in that follows her from show to show. She was a much better match. They put me on the call sheet for the following day to stand-in for the Asian girl again when my girl was off. Surprised me a little, but by the end of the day, they told me the DP wanted the better match back and offered to get me work on another show. I just wanted the day off to deal with Zyla who had just started the first day of 3rd grade, so I told them not to worry about getting me something else. Strange things were occurring all day. I showed up to set in a red shirt because my girl was going to be in red. While standing-in one of the camera crew came to tell me FYI the DP does not like stand-in's in red. I said, but my girl is in red, otherwise I would never show up to set in red. Then wardrobe came to ask if I had another shirt to wear. Again I said my girl is in this color, what else do you want me to wear. They forgot I was Linda/Andrea's stand-in and thought I was background and matching too perfectly to the principal actor. Later she came by and apologized. The director came up to me and said did wardrobe tell you that you look too much like the principal. I said yes and he said that's a good thing. Then the First AD pulled me aside to tell me he had watched the monitor yesterday and noticed that Linda/Andrea wears a lot of make-up and maybe I should put more on to help the DP light. I said what do you mean a full make-up job? He said I should wear base and blush. This was getting insane, here it was 3 weeks later and now he is saying I need to wear a bunch of make-up? Usually stand-ins do not wear make-up or very minimal. None of the stand-ins wore make-up the last season or even color cover. Things were getting weird. The lighting has been amazing; me wearing more make-up wouldn't change that, so I took the note with a grain of salt. I didn't want to upset the First AD, he also worked Weeds and I really wanted to get on that show as well. It was not just me, Christiane was asked to come in to stand-in for two guys. The DP freaked out because she was a girl and he said it confused him, he wanted the utility guy stand-ins that were listed in the crew list that never seemed to be booked since the Second AD wanted to make sure the main core stand-in's were always working each day. And it was odd that she was asked to stand-in for two guys who were both in the same scene, I mean it was physically impossible for her to do it, so a PA would keep coming in to cover the other actor's spot. Why someone from BG wasn't upgraded I have no idea, the DP suggested it but it wasn't in the budget or something. I left for my now 4-day weekend, to rest up and prepare for whatever came at me next week.

I chose to disregard the First AD's note on my make-up since he wasn't going to be our AD the fourth week of shooting and showed up to set same as usual. No one seemed bothered that I wasn't wearing more make-up. In fact all week I kept getting compliments from all aspects of the camera and sound department on how beautiful I looked. I was nervous when the First AD showed up just to hang out and figure out shots for when he would be working again on the next episode, but it seemed he had forgotten his comment to me because nothing more was said about it. The 10th floor where we shot half the week was insanely hot and the air conditioning was broken. We had the air tubes running through, but windows were left open half the time and the heat from the fires and Indian Summer weather penetrated through. The other half of the week we were on the stage where it was 40 degrees and we froze to death. It was one extreme or the other. After last week, we were curious if the DP would be upset when the girl stand-ins were booked to come in for guy roles again. Everyone came to set to see the DP's reaction when I stood in for a guy much taller than me and bald. It went smooth and there were no issues. It seemed he had mellowed out some and I'm sure was feeling the pressure from ABC since he still was running behind and not doing things as quickly as they wanted. Also, color cover was not an issue this week. The first day I asked wardrobe what my girl was wearing that day and they had no idea. Maybe blue, they said, but they would decide and bring me color cover. They never did, so whatever I just went to set in my black tank top and my girl ended up in purple. I stopped bothering with wardrobe and just wore whatever I felt like and never heard anymore about it. It almost seemed psychic how I would pick a tank top color and show up to set and my girl was bound to be in that color in a least one scene. Originally wardrobe was supposed to provide us with a list for the week of the colors our characters were wearing but that never happened. Everyone on set was really cool, and I loved going to work every day. One thing that started getting to the stand-ins and we found other crew members as well, was the medic who would corner you and tell you stories about her life. Normally this isn't a big deal, but she would just keep talking and talking and by the fourth week the stories recycled themselves and it was getting exhausting to run into her. We decided we deserved a CTB on our vouchers. Complete Torture Bump for every time we are cornered by the medic. The PA's and AD's were laughing and jokingly added the bump to our copy of our vouchers.

It had been 3 months since I applied to Joey's List and I still wanted to switch to him and get out of the XM nightmare. Christiane was with the List and said she worked every day. She said she would put in a referral for me and I sent another email asking to join and reminding him about my referral from Jason back in June. By the end of the week things got crazy, we were running behind and scenes were getting pushed and the call sheet was all mixed up. Zack and Christiane were accidentally brought in hours before they were needed and so they ended up hanging out on the floor in the hallway outside the production door over by the stage. The main actors private rooms were there as well, so jokingly they wrote Andrea a fan note and posted it on her door. She died laughing. Later, I joined them since I was in the first and last scene of the day and had a lot of down time. Andrea saw us on the floor and felt bad we had no room to hang in and spoke up for us. She hooked us up and we were put into a private suite overlooking the whole lot. Then Ellen DeGenerous showed up for the first time to our set, to visit her wife Portia. We got a text in our suite from set saying come meet her, so we left to head back to set and ran into the happy couple who left set to retire to Portia private dressing room. When we got to set, they were just getting ready for the shot and wondering where Portia went. Off on a quicky was my thought, and they both arrived back to set a half hour later. Then Ellen watched Portia shoot her scene and as I was waiting for the elevator to go to lunch, Ellen was asking Portia where to park her car to pick her up for their lunch date. By Friday we were all exhausted and looking forward to our week off. All the stand-in's planned a rollerskate party for Sunday.

My week off included Disneyland, Hurricane Harbor, Back to School Night and of course the Stand-In Rollerskate Party at Moonlight Rollerway.

"Better Off Ted" Second Team Field Trip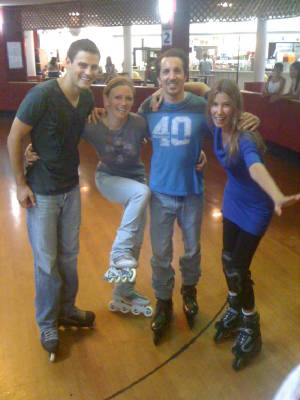 Brian, Jacqueline, Zack & Christiane
I also made sure to get some down time in to refresh for the upcoming weeks of work. When we came back on Monday we were down one stand-in. Brian who had been standing-in for Jay had to leave for another gig and was replaced by Sebastian, one of our utility stand-ins who worked BG on the show. It was short lived because Jay decided to bring his brother in to stand-in for him instead. Tuesday half of the stand-in's were done before lunch and early enough to meet up at the Century 8 Theater in North Hollywood where it is always free for SAG to get in. The only movie we all hadn't seen was Tyler Perry I Do Bad All By Myself. I stayed for half of it, then had to go pick up Zyla. Since Sebastian wasn't working stand-in anymore he met up with us there. Thankfully by Thursday they had him back in doing BG again so at least he was working. Zack found a hilarious website called Bonethefish.com where you can post comments about when a show goes down or on random topics. Our favorite poster was someone called Shanequia. He would bring print outs of her comments and we were entertained for hours. Christiane wanted to find her on Facebook and be friends. She wanted to manage her and make a youtube video of her ranting out her opinions because it would make for an awesome stand-up routine. On Wednesday we met Matt, Jay's brother, for the first time. He was really great, but learning the ropes, as he had never done stand-in before. Our DP was giving him a hard time, just like he had Sebastian, because he was trying to get a friend of his on set for stand-in. That was not acceptable to Jay who told the DP to lay off his brother. The DP thought there was a conspiracy against him because no one had told him that Matt was Jay's brother. Jay came and ate lunch with the stand-in's for the first time to find out the protocol for what he should do about his old stand-in Brian. He had originally brought Brian in, who was a BG first season and had run into Jay at a bar where Jay invited him to be his stand-in on the show for this second season. Now that Jay had his brother standing-in for him he felt bad about Brian, who had left for a month to do an auto show in Texas, and was assuming he would have his job when he got back. I told Jay it was his call and that if a stand-in leaves a show there are never guarantees for return work. The job was his brother's for as long as he wanted it. Zack texted Brian to let him know things did not look good for his return to the show. For the most part we were on schedule all week. I think because little head games were being played with our DP. On the call sheet, the last scene of the day would be listed as "if time permits" which of course it should and the scenes were usually always gotten to. Unfortunately that did not happen on Wednesday and what should have been a quick easy day for me turned into a long day waiting around. My girl was done by 10:30am, but an 'if time permits' scene was added to the call sheet with her in it, so I had to stay just in case. Of course everyone knew we would never get to it. We already had a company move from the stage to the 2nd floor of the restaurant and this added scene would be a second company move to the 10th floor. Everyone kept running into me, asking what I was still doing there. Malcolm brought his mom and brother in for featured BG work and introduced them to me. It was our 2nd AD's birthday and I managed to get some of his awesome berry birthday cake his fiancé specially delivered. I was forgotten about and finally wrapped when I would have gone into overtime and right in the middle of rush hour so it took me over an hour to get home. Thursday and Friday I was working every scene and exhausted. The fifth episode ended beautifully and the producers treated us to a coffee cart. I got a caramel frap since it was still incredibly warm up on the 10th floor even though more snake tubes of air conditioning were brought in.
"Better Off Ted" Season 2 Second Team on Set
Zack, Daver, Jacqueline, Christiane & Matt
I didn't work Monday or Friday of the sixth week. I went to see "Inglorious Bastards", which was classic Tarantino. I wasn't excited about Brad Pitt's accent, but all of the other languages and subtitles were great. For the past few months, Ed and I had been watching an episode or two of "Northern Exposure" every night after our neighbor Andrew turned us on to the show and gave us his copies starting with the first season. The night before I headed to set we were half way through season 5 when I saw Michael Fresco's name in the credits. I remembered he was going to be directing the 6th episode I was scheduled to work on the following day and thought what a funny coincidence. Ed suggested I talk to him about "Northern Exposure" but I wasn't sure the opportunity would present itself. When I walked onto set at 6:30am Michael happened to walk over to me and ask my name. I told him and he introduced himself. I then started talking to him about "Northern Exposure" and after that he started treating me extra special whenever I was standing-in! The week was tense on set since the director and DP didn't always see eye to eye and then the DP would take it out on his camera crew. Shanequia wrote more comments and Zack brought them in. We were determined to figure out where she lived. Taye Diggs came to set as a special guest star, which was really cool. The upcoming episode weekly breakdown schedule came out and my girl was only in one day with a total of 3 scenes for Episode 7! I couldn't believe it. Thank god the breakdown was revised and they broke up her scenes to give her two days. Hopefully I would be able to stand-in for another girl guest star coming at the end of next week, depending on her skin color. I had wanted to stand-in for the receptionist on Friday but I was told she was going to be black and they had to bring in a different stand-in, perfectly understandable. I got in a lot of reading this week primarily on World Without End by Ken Follett. I read the prequel to this book The Pillars of the EarthPillars was just amazing, loved it. World Without End during the filming of the first four episodes. These are really long books and a friend of mine gave them to me for set. was good but not quite what the first one brought, but then again I was only half way through the book. At a 1,000+ pages I was planning to be done with it by the next hiatus. I love my job, where else do you get paid to sit around reading, eat amazing food, meet new friends and when you actually are 'working' you are standing, sitting or laying down staring at someone or something. I enjoy listening and watching all the activity that goes into creating the perfect shot, the perfect lighting, the perfect angles, etc. It really is amazing and almost magical the way it all comes together with everyone working as a team doing their part in perfect synchronicity. Did I mention I love my job?
The weekend before shooting the 7th Episode, I got a call from Tom Walsh. He was back in town from China and needed me to come in to do final ADR work on "Dwegons" for all the female voices! Luckily my schedule was free Thursday since Andrea wasn't in. Another female character that week was working both Thursday and Friday so Christiane and I decided to split the job between us so I would be available for Tom. I wasn't in on Monday, so I decided to go see "Surrogates". I am a fan of Bruce Willis, but I thought the movie would be more. I was finding my expectations continually dashed by what I witnessed in the theaters lately. "Fame" was also another disappointment. I showed up to set Tuesday and was happy to see our new female director and the DP getting along. Things seemed to be running smooth. Andrea was only in one scene so it was a short day for me. Wednesday was more of the same, office set ups, same ol, same ol. Thursday I showed up to the ADR stage where the Follies are made for shows like CSI, etc. It was really cool. I was given a breakdown of all the characters and actions I would be performing. It was challenging listening to other actresses' accents and having to match. My characters in 'Dwegons' were Russian and Texan, but I also had to pull off Irish, British, Southern Belle and some spaced out hippie accent! At one point all the accents were swimming in my head and I said a line in a Southern accent when it should have been British. I finally got the Brit down but then was asked to make it more Cockney with attitude. I was exhausted after doing that all afternoon, but so excited that it was almost to the finish with my animation. Tom said they were in negotiations with Sony to have the movie done in 3-D. He was leaving in a week for Bulgaria where he would record an orchestra for the final mix of the movie. It was all very exciting and I was happy to be part of it. I picked up Zyla from school and after dinner we were practicing gymnastics in the living room. I was showing her a back walkover, but I was doing it with both feet on the floor and then kicking both legs over together with bent knees. Zyla challenged me to do it with straight legs starting on one foot with the other poised in the air to kick over once my hands landed. Well, my hands landed and then my knee twisted out and pop, pop, pop, I fell down on the floor. The pain was intense and Zyla just laughed telling me I would be fine, I wasn't going to die. She got me the ice pack and Ed rushed to CVS twice to get me the right knee brace. How I made it to set the next morning was a miracle. I had been crawling up the stairs in my house, but by morning I could manage a crippled limp with the knee brace and headed out. It was really hard limping from the parking lot to stage 6 and I got exhausted easily. Everyone on the crew was really nice, helpful and understanding. I felt the love. The guest star girl I was standing-in for was really short and the DP let me sit on a twirly stool to be proper height because my leg hurt too much to try squatting to her height. She was in the first and last scenes of the day so I had a long break to elevate my leg and I was able to hobble a little bit better by the end of the day. Tired and broken I made it home to find it a bit swollen, so the rest of the weekend I spent on my back elevating and icing my knee, watching Season 6 of "Northern Exposure", praying everything would be back to normal by Monday.
The week of Episode 8 went by in a blur. I worked every day and my knee's improvement was slow. I continued to wear the knee brace to set and it actually became a good opening conversation piece. People spoke to me who otherwise might not have. By Thursday I bravely headed out without the knee brace on and made it through a 12-hour day, exhausted, but still standing. On Friday I thanked God that it was all over and looked forward to my second week-long hiatus of the season. I was getting depressed that I could not do the things I love, dancing, hiking, going to Disneyland. I did not want to push it though and rested a lot to make sure I had a full recovery for returning to work. I finished watching all six seasons of "Northern Exposure" and started watching "Joey" to check out Andrea and show my family who 'my girl' was. She is so adorable and the nicest actress I have ever worked with, I tried not to think about the fact that this was the beginning of the end and that we only had five more episodes slated to shoot. Second Team got it together for an outing over the break and we all went to the free theater (for SAG members) to see "Couples Retreat".
By the end of the second hiatus, it had been over 2 weeks and my knee felt just under 100% so we went to Halloween Disneyland. There was a scavenger hunt for clues that we printed out from the AP section of the Disney website. It was fun running all over both parks (Disney & California Adventure) finding the clues. When we got home and entered in the winning answer, the prize was a free wallpaper/screensaver. Zyla was upset, thinking she would win a free trip to the Disney Hotel. Went to see "Where the Wild Things Are". I have loved that book since I was a kid and introduced it to Zyla at a young age as well. The effects were amazing; they did a brilliant job with it. We also finished watching "Joey" and got back into the third season of "Dexter". Wow I missed Anthony, he's such a pleasure to watch. Back on set Monday of our Episode 9, I felt rested and ready to work. I was happy I was booked every day, and then my call-in service, Extras Management, started acting weird. During the hiatus they had called to say I was booked on "Bones". I emailed and called them back reminding them that I am on hold until Dec. 1st and not accepting any other work besides my regular stand-in job. They emailed back saying it was their mistake and took me off the call. But then the same thing happened twice the following week. Extras Management called to say I was booked on "90210" for Wednesday. I told them, no, I am booked on "Better Off Ted" as the regular stand-in and booked out for everything else until Dec. 1st. "Ok, we'll take you off the call," they said. Then again on Friday, "You are booked on 'CSI' for Monday." I call them back to say what is going on, I am working my regular stand-in gig on Monday, so they took me off the call. And it's not like it was the same person making this mistake. There are so many people working at XM that I can't keep track and I guess they don't know how to read my file's booked out page, who knows. I hope they call this often when the show ends! During Episode 9, our utility stand-in, Sebastien finally got to stand-in again for a guest star. Our Steady Cam operator left for another gig and the replacement was fired in 3 days. The camera is over 100 lbs and not just anyone can work that rig, it is very challenging, so they brought back the old steady cam operator one day just to get us through until we had another new guy by Thursday, I couldn't keep up. People were coming and going. As the season wound down we would see a lot more of that. Trying to get onto new gigs before this one ended. Rumors were flying that the show would be picked up for more episodes and we would be working through March, I kept my fingers crossed. A big crew photo shoot was planned on Thursday and we took the picture outside in the sunshine. I finished World Without End, which was great but not as good as Pillars, and then started Sarah's Key by Tatiana De Rosnay. This story was so depressing that I constantly had to put it down on set as tears welled up in my eyes. Not a book to read if you don't plan on crying. All that kept running through my head was the children, it is just so sad, unbearable as a mother to fathom this, and I thanked God for the safety of my child. To think that the French's own government was involved in this way with the Nazi's during the Holocaust, obviously makes you question whether the same could happen here. I pray history does not have to repeat itself in this way. On Friday I finished from set early enough to get Zyla on time and enjoy our afternoon together. We went to the annual Stough Canyon Haunted Hike that evening done up as a Spooky Backlot. I was looking forward to the MJ 'This is it' movie being released next week!
Halloween morning I sat painting my nails black listening to Michael Jackson Ghost. Episode 10 came and went too fast. Brian, the stand-in for Jay that had left for over a month for an auto show gig, came back as a regular background for the show. He was upgraded to utility stand-in by the end of the week. I was only scheduled for Monday through Wednesday and said good-bye for my four day Halloween weekend. Went to opening night of "This Is IT", which was awesome. I love documentary style and seeing the last days of Michael was amazing, yet I couldn't leave the theatre feeling anything but sad at the loss. Typical of set life, I was called in to work Friday because the scenes for Monday for episode 11 were moved to this week. The last of Episode 10 would be flip- flopped to be finished next week. The funny thing was the schedule had been changed so many times, with everyone trying not to be the ones left in the last scene Friday night and it ended up that every main actor was in the last scene. All the stand-ins were looking forward to Zack's 2nd Team Halloween Party and talking about our costumes. I was excited about a costume I made up ~ M the Gothic Super Hero. When I put on my dress, Zyla told me I should wear a bra. When I put on my bra, she said I was being rude. Ed said go with the cleavage. I love playing dress up!
Jacqueline Nyahay as "M"
Halloween 2009
Over the top, larger than life, spooky gothic galore is how our Halloween played out. And of course Ed shot a lot of footage so we ended up with tons of youtube videos! We had to leave Zack's party early due to my call time being first up Monday morning.
"Better Off Ted" Second Team Halloween Party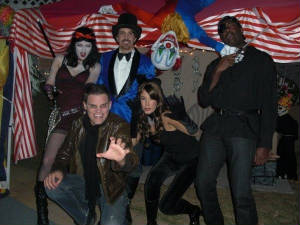 Jacqueline, Brian, Zack, Christiane & Daver